ITI, one of the UK's largest independent systems integrators, has acquired Cimlogic, a leading digital manufacturing solutions and services provider to some of the world's largest manufacturers.
This acquisition will enable the Group to provide a wider, end-to-end portfolio of digital solutions that advance customers' operations and have the ability to transform the way manufacturing and national infrastructure operates in our rapidly changing world.
ITI is currently celebrating 50 years of experience providing real-time monitoring and information systems to the UK's major operators in the energy and infrastructure sectors. These systems monitor and predict safety issues and equipment performance. Cimlogic's solutions complement these capabilities by enabling reduced costs, regulatory compliance, increased capacity, on-time delivery, accelerated new product introduction and sustainable operations.
ITI's simulation services, provided through Saker Solutions (part of the ITI Group), allow clients to identify where processes and resources can be optimised. Now, with the addition of Cimlogic's digital transformation and smart factory solutions, our customers' overall operations can be tied together, reducing waste, increasing efficiency and predictability and above all enabling a well-choreographed operation, which in turn will enable the connected supply chains of the future.
ITI will also be acquiring the manufacturing consulting capabilities to assist existing customers to expand their digital understanding and adoption. Furthermore, the acquisition will increase the company's presence both nationally and internationally through Cimlogic's operations in North America and Europe.
Group CEO Andrew Mills said: "This is fantastic news for both ITI and Cimlogic. Together, we can use our collective expertise to ensure our clients properly utilise their data to automate their operations, delivering return on investment and improved service to their own customers."
Mike Hodge, CEO and major shareholder of Cimlogic, who will become ITI Group CTO, said: "Following 20 years of relentless effort and ambition to connect manufacturers with the most suitable, latest technology, we're excited to become part of the ITI Group. Working with ITI means we can accelerate the expansion of our business and provide a wider portfolio of solutions and services to new and existing clients."
Andrew agreed: "This collaboration will enable us to deliver an expanded and integrated service to all our customers using innovative technology, to digitally transform, inspire and enable businesses to be the global leaders of tomorrow."
Mark Hardy, Chairman of the ITI Group, said: "I'm delighted that Mike and his team at Cimlogic have decided to join the Group. The additional capabilities and industry experience significantly enhances ITI's scope and capability. Over half the Group's business will now be focussed on advanced digital solutions, providing analysis, simulation and operational management capabilities that add significant business value to customers.
"The addition of Cimlogic's unique "RAISE™" methodology to the overall portfolio will assist customers embarking upon digital transformation to navigate their requirements in a structured and cost-effective manner. At the same time our automation, control and safety systems activities continue to grow, with multiple new projects being secured for critical infrastructure customers in recent months. I'm pleased to see the business executing on its strategy and expanding rapidly despite the difficult general economic climate."
For more information on ITI, the services they offer or how they can help you, visit www.itigroup.co.uk
NOTES TO EDITORS
Image caption
CEO of ITI Andrew Mills (right), welcomes Cimlogic and ITI's new CTO Mike Hodge (left) to the ITI Group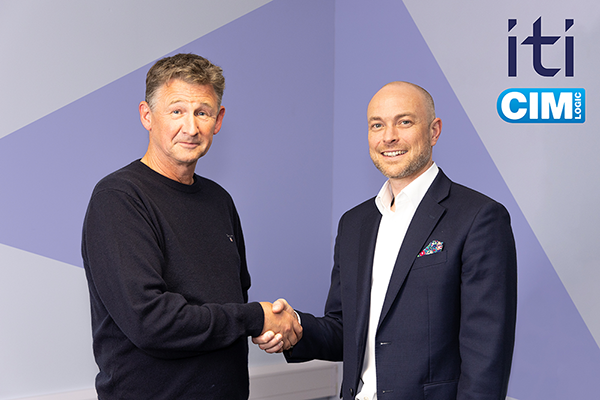 About ITI
ITI is a technology partner to UK national infrastructure. We advance safe, secure and sustainable operations through the innovative use of technology.
At the heart of ITI is a complete commitment to innovation and transformation. Our people are practical, insightful and dynamic with a personal approach.
We act responsibly, focusing on safety and security, working with integrity at all times to deliver excellence through collaboration, experience and know-how.
For more information on ITI and the services we offer, visit www.itigroup.co.uk
About Cimlogic
Cimlogic offers complete digital manufacturing solutions and services: improving efficiency and maximising productivity, whilst ensuring optimum performance and fast ROI. We connect your operations, harnessing the power of your data to enable insightful decision-making with manufacturing analytics.
The focus of our business is driving world-class manufacturing through Operational Excellence (OpEx); Operational Technology (OT); Manufacturing Execution Systems (MES) and Predictive Manufacturing/Data Analytics, backed by comprehensive Operational Support services.
Cimlogic's impeccable reputation for customer retention is earned through exceptional customer service, project delivery and solutions that deliver on expectations and investment. Underpinning these is our RAISE™ client-centric methodology:
For further information on this release, contact:
Stephanie Windmill
Head of Marketing
Tel: +44 (0) 7973 827360